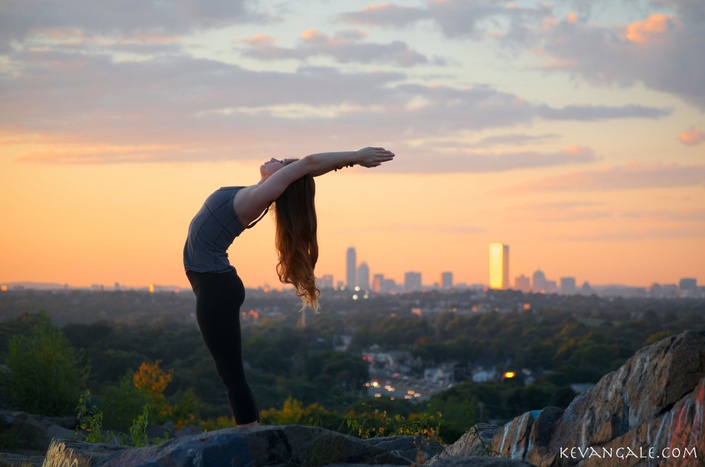 Fluid Yoga Teacher Training 300 Hr (Starting July 2022)
Yoga Alliance 300 Hr Certified Teacher Training (500hr) July 2022 - April 2023
Enroll in Course
Open to the graduates of Fluid Yoga's 200 Hour Teacher Training, The Fluid Yoga 300 hour Yoga Teacher Training is an immersive program that will provide participants the opportunity to enhance their yoga teaching skill set. The training will focus first on understanding our own mind, our spiritual path and our body so that we may better serve others through direct and first-hand experience. We believe that in order to be of most benefit to our students and community, we must first start with ourselves.
The course will focus on methods and practices that integrate the yoga principles into all aspects of daily life to further our understanding of these sacred teachings for cultivating happiness. Then we will learn how to effectively and authentically share such experience with students to empower them on their own paths to happiness. Like countless yogis before us, trainees are encouraged to listen intently to their inner voice and speak from a place of wisdom based on what they experience. This, we believe, is the path of a yogi - an inward journey of discovering. Trainees will not only learn the techniques to practice, they apply the techniques on a daily basis so that they are prepared to compassionately teach them to others.
This training will afford participants the opportunity to practice and implement the Buddhist principles of wisdom and compassion in a supportive group dynamic. Through such direct experience we cultivate a motivation to share what has worked for our own practices to help others as they navigate their own paths.
Your Instructor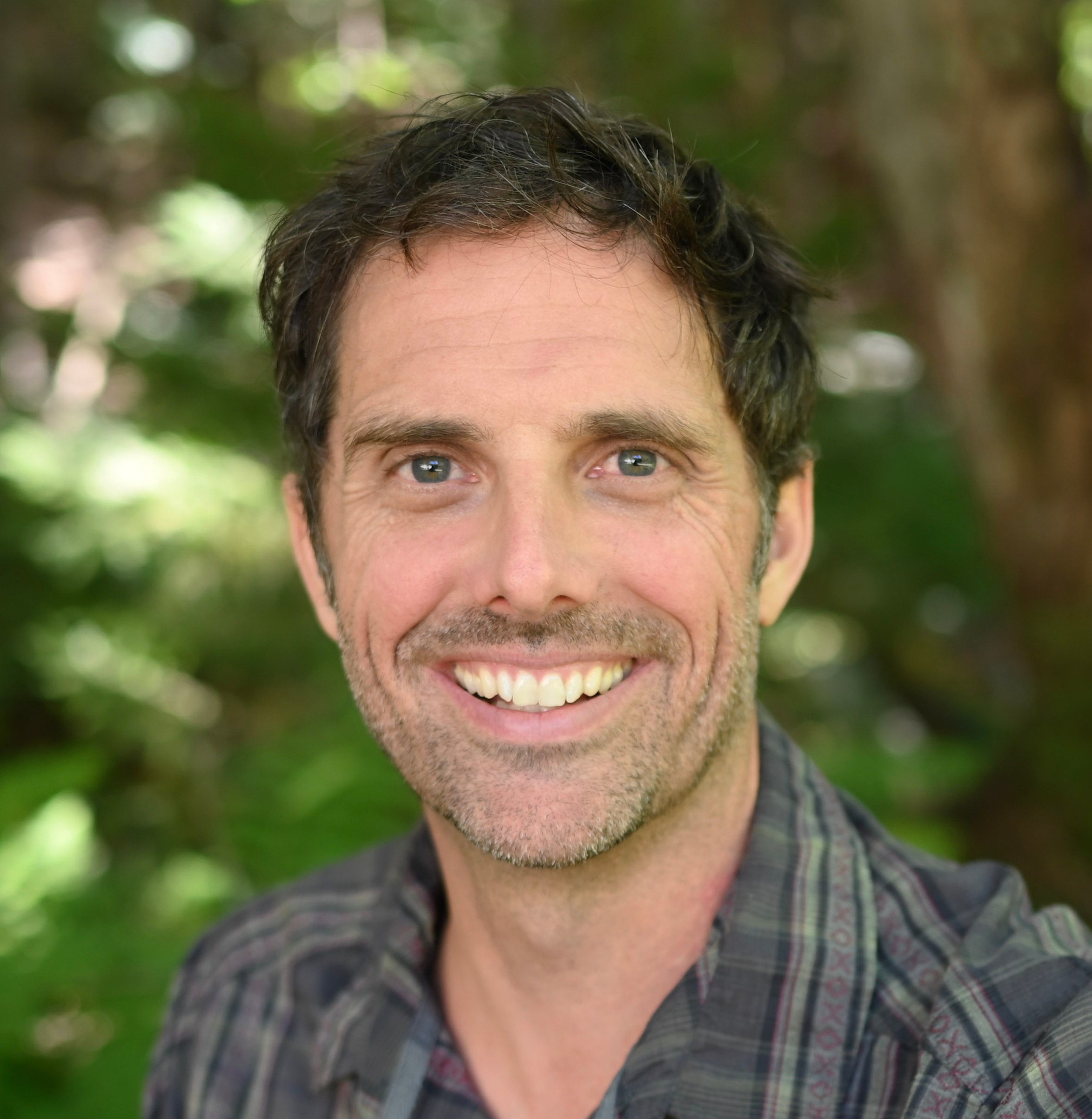 Kevan Gale, E-RYT 500, has dedicated his life to understanding ways to liberate our minds and find enduring happiness through mind training, the dharma, and a life built on gratitude, compassion and love. Kevan studied Tibetan Buddhist teachings under the tutelage of Khenpo Lama Migmar Tseten of The Sakya Center in Cambridge. For decades he has shared these teachings in order to bring benefit to others. Kevan offers online courses in mindfulness, the study of Buddhist dharma and yoga asana through Triyanastudies.com. He is a lecturer at Northeastern University, where he helped develop the curriculum for a Minor in Mindfulness Studies, with foundations in Buddhist teachings as well as an emphasis on the science of mindfulness practices.
Kevan has led 200-hour and 500-hour teacher trainings for hundreds of students, many of whom have gone on to become yoga teachers and yoga studio owners. Kevan has also led numerous workshops, webinars, and retreats around the world. He is also co-founder of Aeemelia Skin Care and The Five Clouds, a resource to support your spiritual practice.
He is the owner of Stil Studio in greater Boston and an avid cyclist, photographer, and father.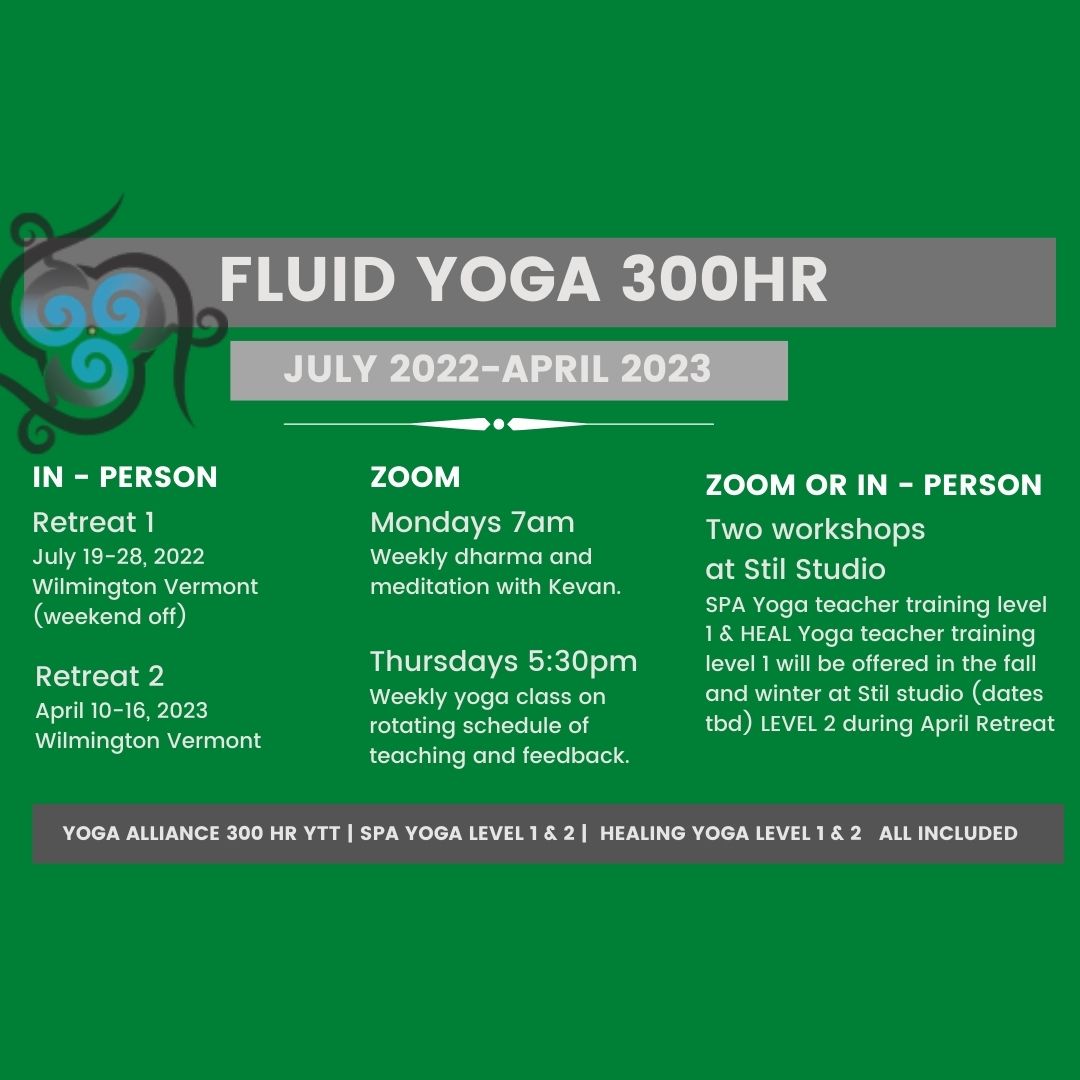 Frequently Asked Questions
When does the course start and finish?
This course begins and ends with a retreat in Vermont. July 19-28, 2022 (with a break for the weekend) in person participation required for the retreats. It culminates with a second retreat April 10-16, 2023. Weekly and monthly requirements for the period of time between retreats, see the syllabus for detailed explanation of what is required.
How long do I have access to the course?
For one year after the course is completed.
What is the cancelation policy?
Once you begin this course it is expected you will continue through to its completion. There are no exceptions to this and no refunds will be given once the course begin so please consider this before you make the commit to join the training.
What are the prerequisits?
A 200 hr YTT completed with Fluid Yoga. We ask you approach the course with an open-mind, willingness to learn and to work kindly with others.
TEACHING METHODS / LEARNING EXPERIENCES
Daily: Each day you are expected to meditate, stretch and practice compassion towards others.
Weekly: Each week you are expected to:
Attend Monday morning 7am-8am zoom teachings (live participation encouraged, recorded if you are unable to attend)
Participate in Thursday evening 5:30pm-7:00pm group class (either teach, observe or assist the weekly group class) and offer feedback.
SPA & HEAL Yoga training participation: Attend (zoom or in person) the workshops on how to teach SPA and HEAL yoga offered as part of the training
Bi-yearly: Twice we will host a retreat to deepen the practice experience as a group in Vermont. (July 19-28, 2021 and April 10-16, 2023)